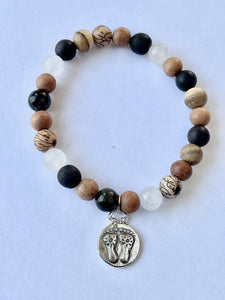 Silver Lakshmi Pada Bracelet
These special edition mala bracelets have various beads with sandalwood, black agarwood, agar eaglewood, mantra infused rose petal bead, white quartz, black onyx & lotus seed beads. Together they create the properties of clarity and focus, grounding to the Earth, ourselves and offer peace within.
The feet of the Goddess Lakshmi are one of her most auspicious symbols.  On the back it reads "walk a blessed journey".  This piece promotes the attraction of abundance, wealth and good fortune.
$150.00
Plus shipping and taxes