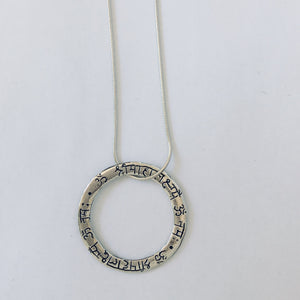 Silver lakshmi mantra necklace
Pendant measures just under 1-1/2" in diameter on a sterling silver serpent chain in your choice of sizes: 16", 18" or 20". Sanskrit on one side, English transliteration on the other.
Om Shri Lakshmyai Om Namaha -This mantra is chanted to Goddess Lakshmi for opulence, good fortune and grace. Lakshmi is always depicted holding 2 lotuses in her hands which symbolize the worlds and self realization in various stages of evolution.
Lotus bud represents the unfolding of possibilities

$130.00
Plus taxes and shipping.