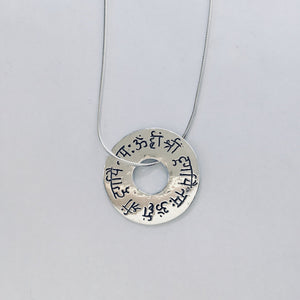 Silver durga mantra necklace
Measures 1-1/4" in diameter, comes on a sterling silver serpent chain in your choice of size: 16", 18" or 20". Sanskrit on one side, English on the other.
Om hrim shrim dum durgayai namaha
Goddess Durga is considered the divine mother of shakti power, her omnipotent strength is capable of destroying all dark and negative force while protecting all that is good.
$180.00
Plus taxes and shipping.