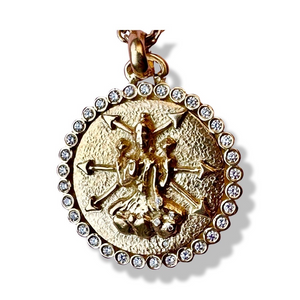 Lakshmi Mannifest - 33 2 mm diamonds VS 1.3 total carat weight, 18k
Lakshmi is the goddess of abundance, opulence, good fortune and grace. Her name vibrates the energy of attraction and creation of beauty and opulence in one's life and surroundings.
The arrows expand the energy from the center, igniting the power of attraction to manifest and amplify intentions in all directions. The arrows remind us that what we focus on, we can manifest. 
Pendant only - chain sold separately
Each piece is handmade, please allow 3 - 4 weeks