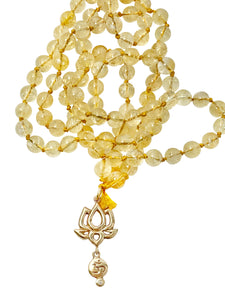 108 citrine beads with 14K lotus with om and 2mm diamond
$2,700.00
Plus taxes and shipping
Citrine is known as a stone to assist in manifesting one's intentions and abundance.
Full lotus is the symbol of achievement, gratitude and fulfillment. This piece promotes encouragement and gratitude in the attainment and pursuit of one's goals and achievements.
Om is the imperishable sacred symbol and sound vibration known to represent the universe.  It represents unified spiritual knowledge and divine unity, embracing creation, preservation and transformation.  This piece promotes the well being of peace and divine connection.