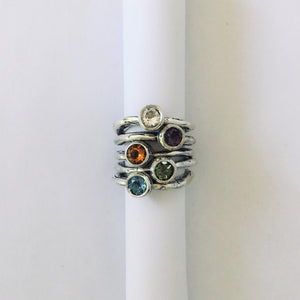 Sterling silver stack ring with 5mm Brilliant cut gem stone of your choice. Sanskrit on one side, English transliteration on the other.
Please provide your ring size in the special instructions on the order page.
Ganesh - The remover of all obstacles and bestower of success.
Shiva - The most pure and auspicious.
Parvati - Goddess of Mother Nature and earthly femininity.
Vishnu - Preservation, balance and harmony.
Lakshmi - Opulence, good fortune and grace.
Brahma - Creation and master of the universe.
Krishna - Eternal lover of the soul.
Saraswati - Wisdom, beauty and the arts.
SitaRam - The Divine eternal couple.