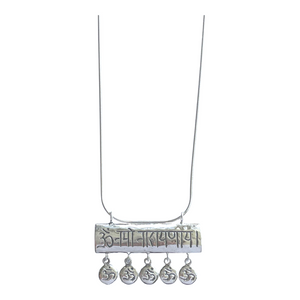 Silver om namo narayanaya bar necklace
Pendant comes on a silver serpent chain in your choice of sizes: 16", 18", or 20". Sanskrit on one side, English translation on the other.
Om Namo Narayanaya is the mantra chanted to invoke peace, harmony and balance.
Narayanaya means maintainer of all beings and reminds us that we are always held by divine grace and love.
$250.00
Plus taxes and shipping.