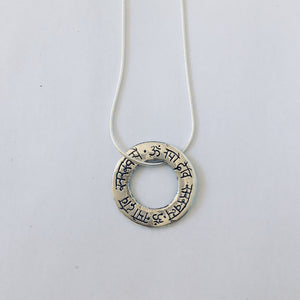 Silver saraswati mantra necklace
Disk measures 1" in diameter on a sterling silver serpent chain in your choice of sizes: 16", 18" or 20". Sanskrit on one side, English translation on the other.
Om Namo Devi Sarasvatyai is a mantra chanted to Goddess Saraswati, Goddess of wisdom, beauty and the arts.
$120.00
Plus taxes and shipping.