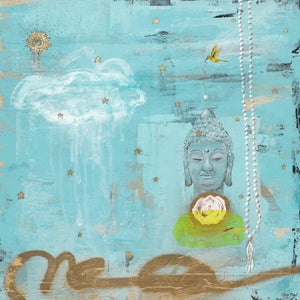 Buddha's Resilience
Original Painting: $2150.00 (Sold)
24" x 24" Acrylic, collage and mix media on wood panel
Artist Enhanced Prints with gold leaf are also available in three sizes. Giclee on canvas (allow at least two weeks for delivery).
20" x 20" print $825.00 *
24" x 24" print $950.00 *
30" x 30" print $1,100.00 *
This painting is based on the symbology of my jewelry line. It is a reminder that whatever 'storm' comes your way to remind yourself  'this too shall pass'. The Buddha, the symbol of peace, sits still while the cloud hovers. Above is the Sun, the Symbol of Joy, success and love that is always there day after day. The hummingbird is the symbol of wisdom, beauty and devotion and holds a pearl on a red thread representing the thread of wisdom to know in dark times to simply quiet our mind, breathe, and know you will be fine. The rose the symbol of love.